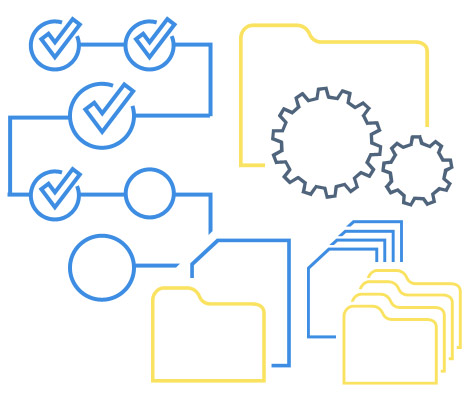 Creating, exchanging and printing documents are the foundation of almost all businesses. The company fCoder offers several software solutions and components to ease working with documents through digital workflow automation. By automating document workflow institutions, companies and corporations can save time and money.
FolderMill
One such solution, FolderMill, is a powerful server-based tool for automated document and image printing as well as PDF file creation. FolderMill is designed to work well in high-volume batch document and image processing cases, which is perfect for business operations.
One of the greatest features of FolderMill is how it interacts with users. FolderMill does not use a user interface. Instead, employees simply copy files they need to print or convert to a network-shared "hot folder". FolderMill automatically performs the configured operations and employees can find the final product on their printer or in another network-shared folder. That's it - just a couple mouse clicks and FolderMill takes care of the rest!
With FolderMill, a business' activities become more efficient and reliable, because employees no longer need to install printer drivers or know how to use document processing software. After FolderMill is configured, employees only have to drag and drop or copy and paste, no training or special skills are needed. This software solution removes any possibility of mistakes and saves a business time, paper, and toner, which of course means saving money.
In fact, FolderMill is a complete "workflow system in a box", which can be deployed on each office server and workstation. As result, FolderMill has a wide range of uses across a business' processes and operations.
fCoder also offers other software components to allow software developers the ability to design workflow systems with as much flexibility as a business' process requires.
2Printer
2Printer is a software tool for printing documents in batch mode. 2Printer has a command line interface, is compatible with any printer connected to the computer and is able to print PDF, Microsoft Office and Open Office documents, image files, HTML, and so on.
Software developers can use 2Printer as a printing component in an office's workflow system and with other software products, distributed in the box or via the Internet.
2JPEG and 2TIFF
2JPEG and 2TIFF are command line tools for converting documents and image files to JPG and TIFF file format. A full list of 2JPEG and 2TIFF features include the ability to scale image files, split multipage documents, crop margins, flip, rotate, add watermark on pages, apply image color correction and much more.
Universal Document Converter
Universal Document Converter is another software tool that can be used as a component in other software or with a workflow system. Basically, Universal Document Converter is a virtual printer that saves documents as a PDF or image file.
Virtual printer technology lets employees use the Universal Document Converter to process any printable document. Software developers can virtually print documents to PDF, even if a "save as PDF" feature is not available with a business' other software tools.
For maximum efficiency and reliability, businesses can use Universal Document Converter together with FolderMill and 2Printer software. Using these products together greatly increases the abilities of a business to process documents. For example, employees can create PDF or image files from documents such as Autodesk AutoCAD, Design Review and SolidWorks drawings, with no other software or skills required.
Want to read more articles like that? - Subscribe to fCoder Newsletter
Subscribe to our email newsletter. We are sending infrequent emails with useful articles and our news. You can unsubscribe at anytime.