Print Conductor is a professional batch printing software for Windows. This simple yet powerful program can process an unlimited number of files from the list, sequentially sending them to any printing device such as printer or plotter.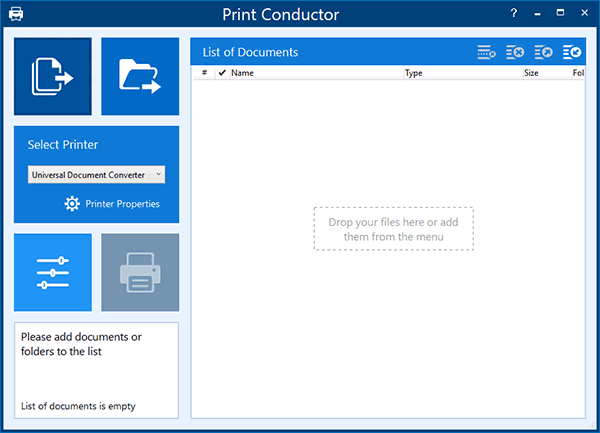 Print Conductor overview
Without Print Conductor, one has to go through a round of tedious actions. Open a document, wait until a program loads, then go to the "Print" menu, configure print settings, and send this file to the print queue. Then repeat the process for each and every file you need to print.
With Print Conductor, there is no need to open office documents, images, texts, technical drawings, documentation in their native software before printing them. Instead, you can just drag & drop multiple files to Print Conductor, and the program will print them all without the user's attention.
The program supports many popular file formats: PDF, DOCX, TXT, JPG, PNG, TIFF, and many more. The most advantageous feature of this program is the ability to print multiple files at once, and here's a short video showcasing this ability:
Flexible controls for settings adjustment
Usually, there is no need to change the Print Conductor's default settings. The program's core has smart algorithms that select the most effective way to print this or that file faster and/or better depending on the file type and structure. However, if you want to adjust printing according to your needs, for example, alter page or document settings, the program offers easy-to-use configuration controls allowing you to do so.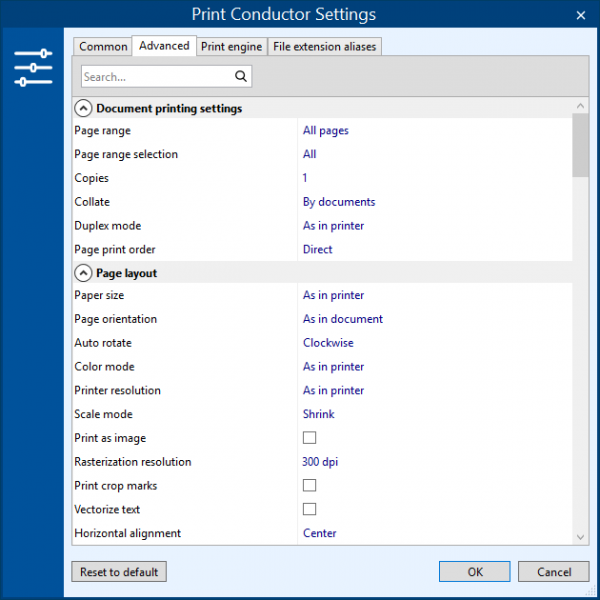 Print Conductor Settings are divided into Common and Advanced settings tabs where you can set up and fine-tune everything in detail. Advanced settings are subdivided into sections where you can check settings for a specific range of files, e.g., PDF, Word, Excel, CAD, or Excel files. Sometimes it may be necessary to select an alternative print engine, and all supported filetypes and corresponding engines are listed in the Print engine tab. File extension aliases tab will help if you have files with specific extension and want to try printing them as one of the formats recognized by Print Conductor.
Individual item settings
Print Conductor Settings control the entire print session. But if there's also a handy Item settings… option available from the contextual menu.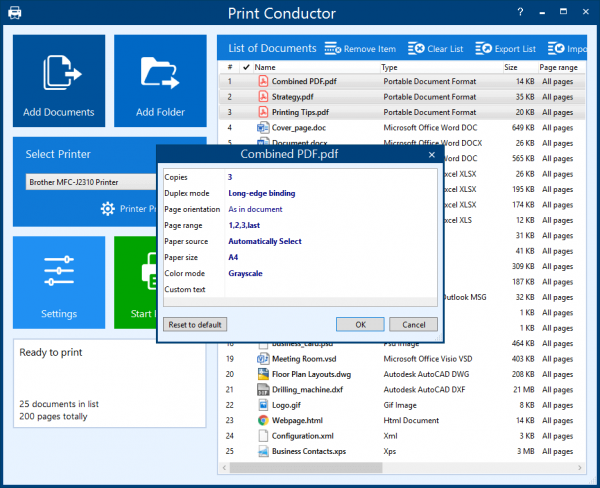 For a single file or a group of files, you can set page range, a number of copies, input printer tray, grayscale instead of color mode, and more. These settings apply for one or several files only, and this can be useful to print specific items on the list in a different way.
Who is Print Conductor for?
"Print Conductor is a 'must have' tool for anyone who works with documents in multiple formats and for organizations large and small. It is a huge time saver and just gets better and better!"

– A satisfied customer.
Indeed, this tool can be a great assistant to any manager or specialist working with many documents every day. Print Conductor can save precious time, especially in governmental, engineering, healthcare, education, legal, accounting, financial & banking sector companies and institutions.
Program users also emphasize benefits & advantages such as great usability, ability to save and load lists of files for regular use, ability to insert various types of cover sheets between document copies, ability to arrange multiple pages per sheet, printing in a strict user-defined order, and extremely responsive customer support from the developers.