The creation of PDF files is one of the most common tasks for office workers. Since PDF files can be read on almost any device and system, this format is widely used. Besides, PDFs keep the data of original files unaltered, and they can be searchable or password-protected.
The easiest way to create a PDF file is to open an existing file in a corresponding program (like Word or a free word processor, a publishing app or a photo editor) and save it as PDF. Or, similarly, create a new file and then export it to PDF. However, it is not always possible. The program you are using might not offer Save as PDF option, or you might need to create PDF from multiple files or images, or you may have documents in different formats that you want to convert to PDFs at once.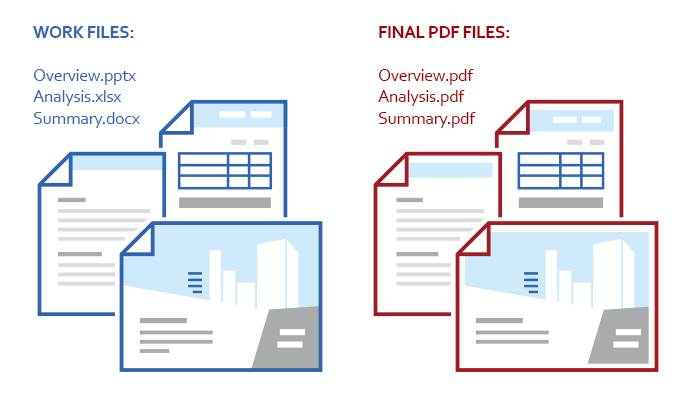 Different ways to automate PDF creation
fCoder offers different software applications for creating PDF files and converting various files to PDF. Although all focused on automated PDF creation, these special PDF converters can handle your documents or image files in different ways:
Please see more details below to find the right choice for you. All software mentioned here can save your documents as bitmapped and searchable PDF. However, they are different in terms of interface and functionality. You can download any of them for free and give each one a try.
---
DocuFreezer
Creates PDF from several files added to the list
DocuFreezer is one of the simplest end-user software solutions available today to batch convert texts, image files, worksheets, and presentations to PDF. If you have multiple documents to be converted to PDF, DocuFreezer is the way to go.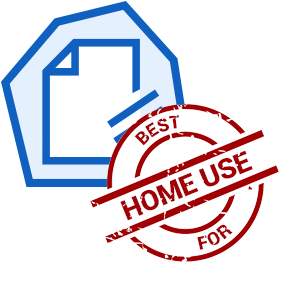 Equipped with a straightforward interface, it lets you convert documents to PDF in batch mode, which saves time and ultimately money.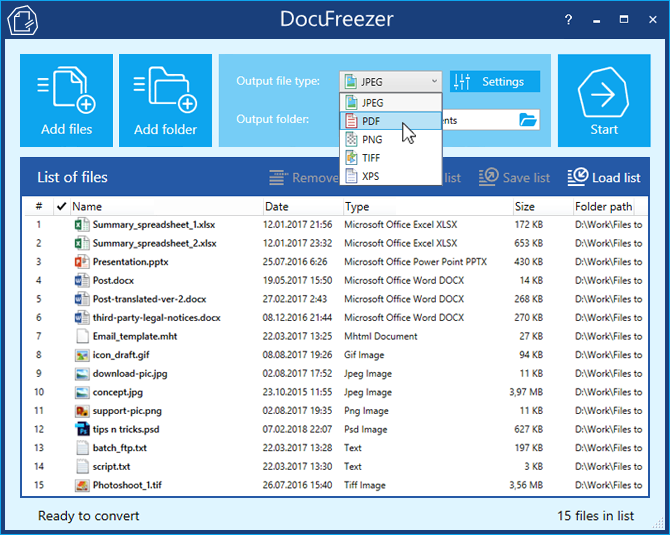 You should simply add new files to DocuFreezer window and press Start. The software converts all the data to PDF, and the output PDFs are available in a short while!
DocuFreezer supports the most common file types used today. The software can create PDF or image files such as JPG, TIFF, and PNG out of the following file formats: Microsoft Office Word, Excel, PowerPoint, Visio, Microsoft Publisher, and OpenOffice. You can even process PostScript, PDF, XPS, JPG, TIFF, PNG, GIF, PSD, HTML, rich text, and plain text files as well.
It also has an OCR feature to convert your scanned PDF files into a fully editable digital PDF file or a plain text TXT.
In addition to creating a PDF, you can also convert PDF to PNG, JPEG, BMP, or TXT, just by following the same procedure that you used to create the PDF.
DocuFreezer is an excellent solution if you want to, for example, convert a CV to PDF but you don't want its design to be changed – it's also a great solution for simply avoiding formatting problems.
Main features
Converts to PDF, PDF/A, JPEG, PNG, TIFF, TXT
Can combine documents, split and merge files
Can extract pages as a multipage PDF or single-page files
Can add new pages to existing PDF or TIFF
Can convert password-protected files
Can convert e-mail files including attachments or without them
Can save files as PDF/A (for archival)
Can save & load file lists for regular use
Pros & Cons
Pros
Simple and easy-to-use interface
Can convert an unlimited number of files
Can merge files in a specific order
Can process entire folders or archives with files
Can create searchable PDFs
Supports 70+ input filetypes
Cons
Less accurate OCR results if the original source itself is not clear (in case of a small or blurry image; it's the same for all OCR software)
---
FolderMill
Creates PDF automatically in real time via special Hot Folders
Another software application from fCoder is FolderMill, which is also a PDF creator developed to automate document workflow processes for businesses. The main feature of FolderMill is monitoring folders and processing all documents placed into incoming folders.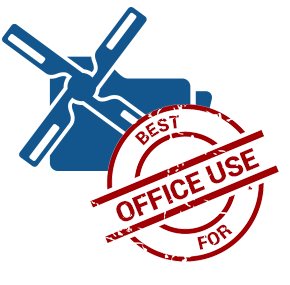 Different rules can be applied to the Hot Folders. As soon as incoming files arrive there, the program converts documents to PDF or images, or adds watermarks, or prints them to a desktop, network, or virtual printer.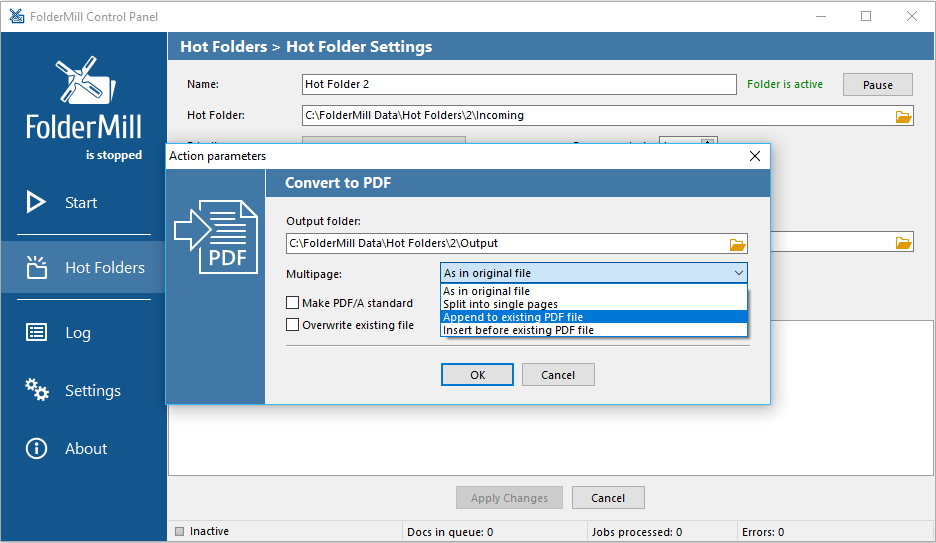 In a typical setup, FolderMill is installed on an office server. During the initial setup, you can create one or a few so-called Hot Folders and assign them with possible tasks which will be performed automatically:
file filtering by paper size or filename
file renaming
conversion to PDF
conversion to image
printing to a selected printer
adding a watermark
copying to a specified folder
running a script or application
Once configured, the Hot Folders start monitoring incoming files, and the program processes them immediately. You can share folders for network use, and give access to them to any employee in an office.
If an employee wants to create a PDF or PDF/A file, they would simply place the source text document or presentation or whichever supported filetype into the corresponding network-shared folder. The resulting PDF file appears in the output folder, which is defined in the FolderMill Hot Folder settings. By default, the program produces searchable PDFs (containing text which can be copied or edited).
Office employees don't need to climb a steep learning curve in order to master the program. All an employee needs to do is copy a file or several files into a Hot Folder, and FolderMill does the rest. With FolderMill, PDF files are correctly created, based on the settings configured within the application.
Main features
Converts to PDF, PDF/A, JPEG, PNG, TIFF
Can add new files to the end or beginning of existing PDF or TIFF files
Can split files into single pages
Can combine different tasks, e.g., print and convert
Can rename files using EXIF data or built-in macros
Can add image or text watermark
Allows setting priority for files processing
Pros & Cons
Pros
Processes incoming files automatically in real time
Can be used by all employees in a company
Automates creating of multipage PDF files containing many documents and adding new pages
Intuitive usability for any Windows user (copy to one folder – get from another)
Fits any Windows environment: desktop, server, virtual machine or workstation
Can be integrated into existing workflow and work 24/7 without user's attention
Can copy or move converted PDFs to certain folders (or send them to a printer)
Can work on a schedule or via script
Supports 70+ input filetypes
Cons
Does not allow PDF editing
The initial configuration might seem difficult at first sight
May be costly for home users
---
Universal Document Converter
"Prints" files to PDF
This software may initially confuse those who aren't familiar with virtual printers. Universal Document Converter is recognized in your system as a printer and has a "printer interface" to convert your files to PDF or image format.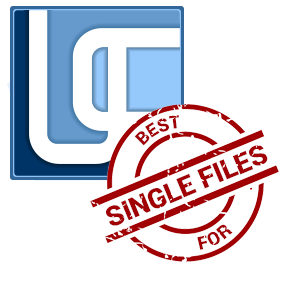 Universal Document Converter lets users create PDF or image files from any documents that can be opened and printed. Therefore, the number of supported filetypes is practically unlimited.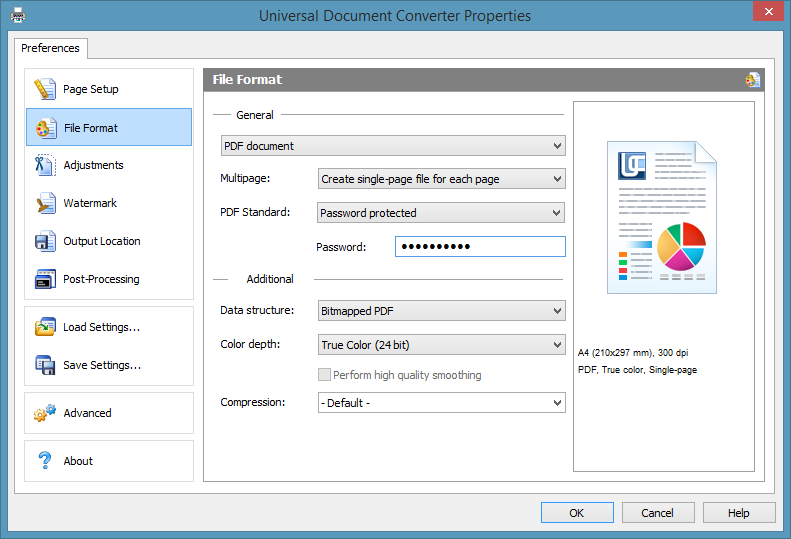 After installation, the program can be found in Printers & Scanners (Windows 10) or Devices and Printers (Windows 7) panel along with the other printers available. If you have Microsoft Word, Excel, or PowerPoint, Universal Document Converter will also add a toolbar (shortcut tab) to them. This toolbar allows to create PDF files without leaving the Office application with just one click: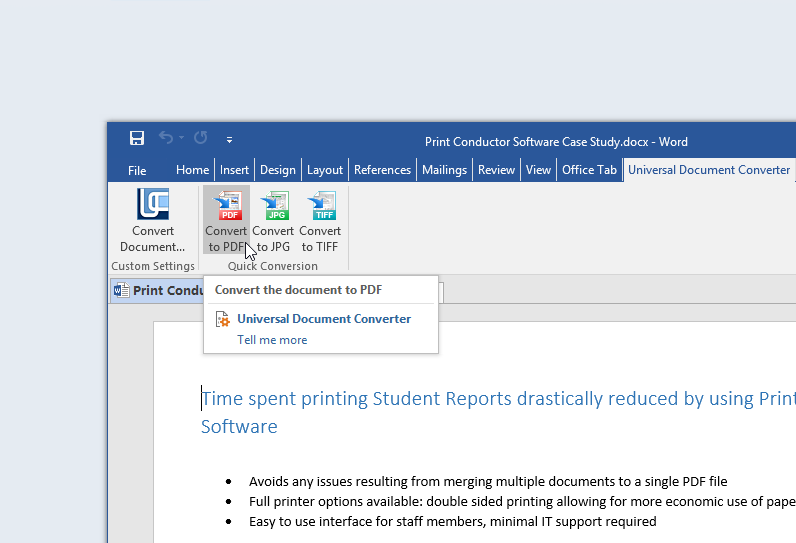 Two ways to create PDFs with Universal Document Converter
Single file conversion to PDF. Open the document with the original program (for example, if it's a DOCX, open it with Microsoft Word or LibreOffice Writer), click Print and choose Universal Document Converter as a printer. Set the necessary parameters and click Print to have your file converted.
Multiple files conversion to PDF. Open Print Conductor or another batch printing software. Add multiple files to the program's list and select Universal Document Converter as a printer. Set the necessary parameters by clicking Printer properties and then click the Start Printing button. The batch file conversion will begin.
Universal Document Converter's PDF creation options include the ability to combine several documents into a single PDF file, create searchable or bitmapped PDF files, split multipage documents into separate PDF files, create PDF/A standard files, password-protect files, and more.
Universal Document Converter also has an API for developers and can be installed on a server to share for network use. This means the software can be easily integrated with corporate workflow systems or become a PDF creation component for third-party software products.
If your business needs to process uncommon or rare file types, such as certain types of AutoCAD drawings or RAW files, we suggest using Universal Document Converter, because this is an indeed "universal" file converter. It can process almost any file type you can imagine.
Main features
Converts to PDF, JPEG, PNG, TIFF, BMP, GIF, DCX, PCX
Can append new files to existing documents
Can automatically detect and crop borders
Supports any printable filetypes
Has post-processing options: open folder/viewer, run a custom application
Allows setting page orientation
Allows settings resize and crop options
Allows setting color mode, DPI and image quality
Pros & Cons
Pros
Converts any printable document
Has page size, orientation, crop, and scaling options
Quickly converts files from Microsoft Office apps
Can work via Terminal Services or Remote Desktop
Can protect documents with passwords
Can create searchable PDFs
Can create DCX and PCX images
Has various compression methods to reduce PDF size
Allows saving & loading profiles with settings
Supports 70+ input filetypes
Cons
Requires additional software for automated or batch conversion
---
How to create PDF from an Office application
Open your Word, Excel, or PowerPoint document;
In the Print dialog box, specify any settings, such as which pages to include in your PDF;
Name the file and choose a folder for it. Then, click Save.
Note: this method works fine if you only save documents to PDF once in a while. However, if you don't want to spend much time opening each file, but automate the entire process and make use of additional features, see other ways described in this article.
---
Which PDF creation software is better
To summarize, if you're looking for a PDF creator, try out any of the programs described above and decide which is the best PDF creation software to meet your needs. They are easy to use while also having a lot of useful features for both personal and business use, especially if you opt for a paid program. The programs are free for non-commercial purposes and are regularly updated.
Want to read more articles like that? - Subscribe to fCoder Newsletter
Subscribe to our email newsletter. We are sending infrequent emails with useful articles and our news. You can unsubscribe at anytime.