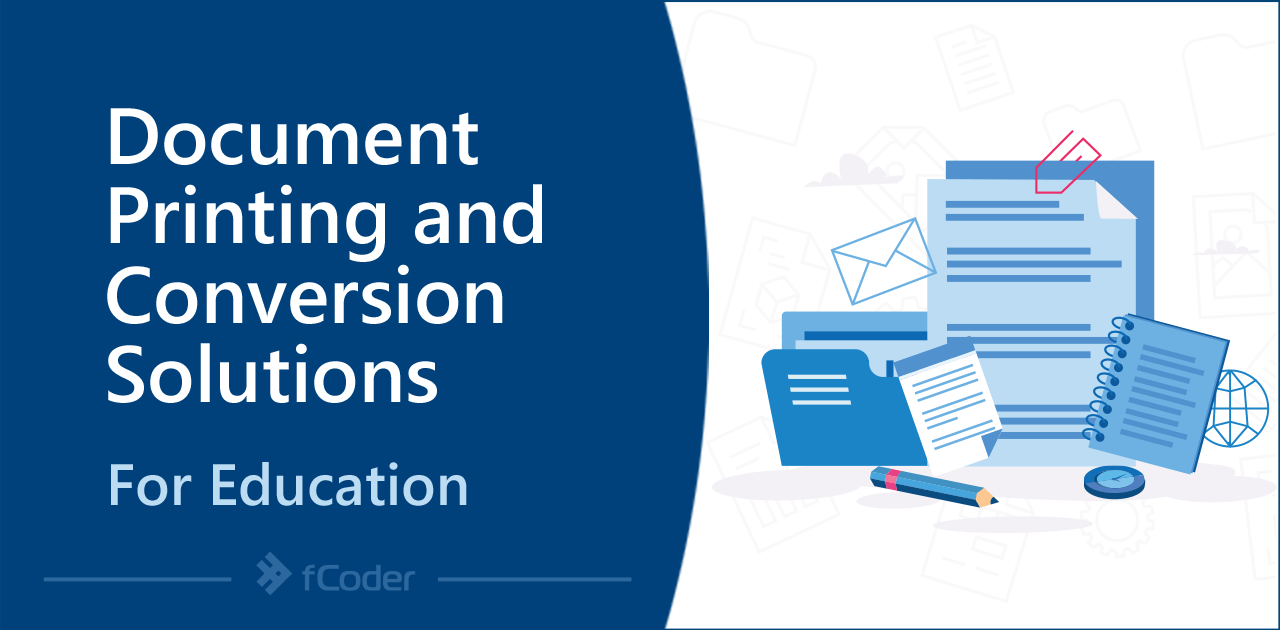 Contents
Save time on printing student reports, assignments, and other docs
Clicking through each student document and printing them individually can be very time-consuming. But with our software, teachers, students, and staff can simplify the printing or conversion of files to PDF or image formats. Software by fCoder can automate the processing of various documents often used in a busy school or college:
student reports
test results
forms
papers
worksheets
assignments
handouts
case studies
records
certificates
templates
reference sheets
exams
and more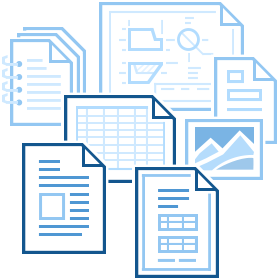 We often communicate with teachers, IT managers, school secretaries, receptionists, and other workers – from universities, schools, training centers, and other educational organizations. We provide them with time and effort-saving tools for working with documents and images:
Print Conductor– for easy printing many files in bulk (to a physical or virtual printer).
DocuFreezer– for batch converting/combining to PDF (with OCR).
FolderMill – for automated file conversion or printing in real-time.
If you're not sure what solution will work best for you, just drop us a message – we can help you select the right tools for your needs. Below you'll find popular document-related use cases, our suggestions, and comments from the experts.
---
Printing multiple student reports in different formats
Student reports are usually generated in PDF format if you're using ClassDojo or another service. The ability to send multiple, sometimes hundreds, of files to print is a time-efficient and helpful functionality in a busy day's work. To print out many students' reports (or other types of reports) at once, you can use Print Conductor. It is an easy-to-use batch printing tool that can print multiple files quickly, without opening each one.
Especially now, when students are learning remotely, their reports can be full of variety. Print Conductor software accepts all popular formats, including PDF, DOCX, XLSX, PPTX, TXT, RTF, XPS, most types of images, and many other file types.
When printing documents from different students, it's a good idea to add an empty sheet of paper to easily distinguish between printouts. And it's essential when printing double-sided – otherwise, a new essay can start at the end of another! Automatic
adding a blank separator page between documents
(or
copies
) is available in Print Conductor.
We're curious what challenges you face when it comes to working with documents received from students. Feel free to share your story with us!
Software used: Print Conductor
What the experts say
Our software can be useful in any office or school environment. Mark Lawrence, IT specialist from Spalding Academy (UK), positively evaluates using Print Conductor for these purposes:

"Print Conductor provides all the features required to efficiently automate the process of batch printing multiple files. Easy to install and incorporate into the workflow of the school."
Print Conductor has an "easy to use interface for staff members, minimal IT support required", he adds. Read the full review →
---
Printing all student assignment submissions as one batch
Teachers often receive completed assignments in digital form, e.g., as documents or scanned images. Assignments sent by students – usually in PDF or DOCX format – need printing in order to make a mark or a comment. When there are many of them, opening and printing each one can be a daunting task.
If you have all submissions downloaded as a single ZIP or RAR archive, there's no need to spend extra time extracting it. Just add the archive file itself to
Print Conductor
and you're good to go to print its contents!
---
Printing all assignments from Google Classroom
"Since Google Classroom is designed to facilitate a paperless classroom, there is no in-built method to easily print all the submissions for a given assignment." – they say that, unfortunately, there is no built-in option to print all student assignments at once while in Google Classroom. In fact, no matter what education service you're using, you can simplify printing assignments with proper third-party tools – once you have the files on your local drive.
Using Print Conductor
First, download all documents submitted to a specific assignment to your local drive. Then just add them to Print Conductor, select a printer and click Start Printing. This way, you can easily print individual files, an entire folder, or a ZIP archive.
Using DocuFreezer
After downloading the necessary files, merge them all into a single PDF. To do it, add files to DocuFreezer and enable Merge into one PDF option. After that, simply print the resultant PDF from your PDF viewer or any browser.
What the experts say
It is possible to print all assignments at once, rather than one at a time using the right third-party tools. Here's a word from Scott Findley, journalism instructor from Gleneagle Secondary School:
"As a high school teacher, Print Conductor is an invaluable resource for me. It allows me to collect digital assignments from students and print them all out for marking. The speed with which the latest version of Print Conductor prints is amazing. Plus, with the printing speed, and the ability to print multiple documents soooo fast, it saves me so much time. Highly recommend it for teachers but also for anyone who has to print out multiple files on a regular basis."
If you need some assistance with document automation, please get in touch with us.
Software used: Print Conductor, DocuFreezer
---
Printing documents from different locations
When files related to different students are scattered in different places, you can quickly import them all to Print Conductor's interface. Simply create a TXT file in Notepad with paths to all files that need printing and import this list into Print Conductor. This method can be convenient when there's a need to print all files from different folders quickly.
What the experts say
Chris J uses Print Conductor to print a large number of print jobs from different locations by importing a list of file paths:
"We are a private school that sends out progress reports to our families. Print Conductor has been invaluable for our year-end printing that goes out to those families, as the actual files are nestled within their own subfolders for each student. Without Print Conductor, we would have to navigate through each set of folders and right-click > Print. With Print Conductor, I can upload a .txt file with the pathways and set it and forget about it."
Having difficulty printing many files using their pathways? Ask us for help.
Software used: Print Conductor
---
Printing multiple PowerPoint slides on one sheet
PowerPoint allows users to select different layouts for printed slides (e.g., 2, 3, or 6 slides per page). But if you want to print multiple PPTX presentations in bulk for note-taking or other purposes, Print Conductor can help you out.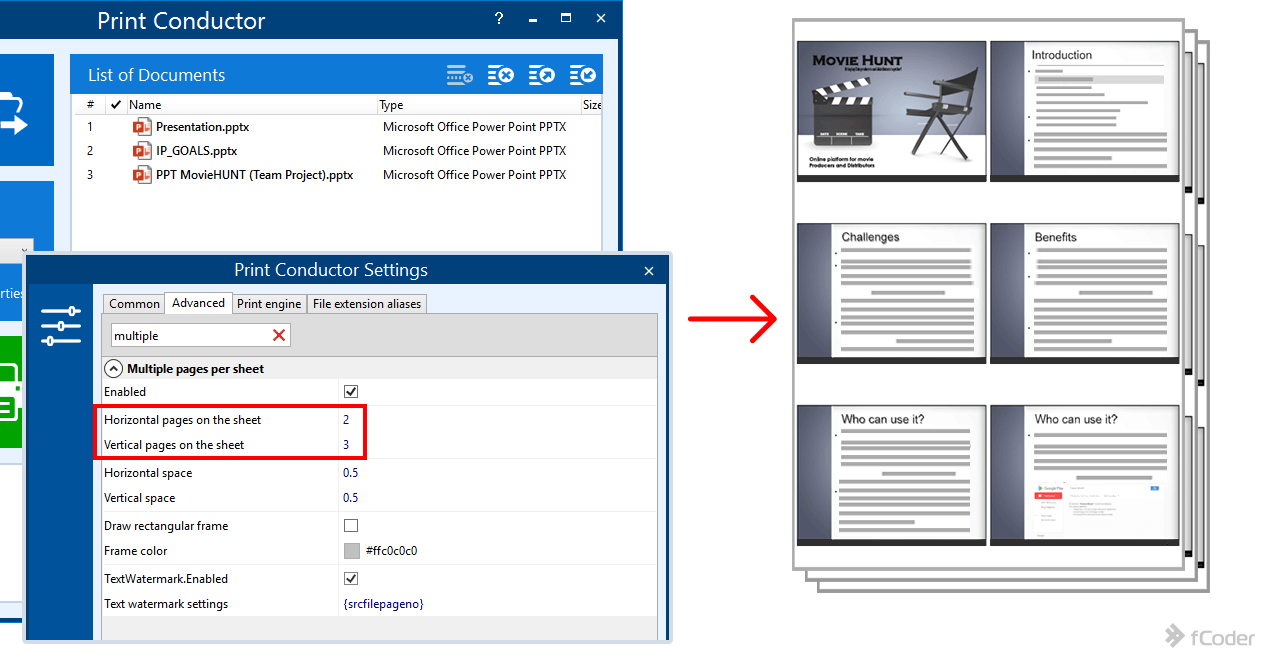 To save some paper, you can arrange several .pptx or .ppt slides on one page. Changing the layout (ability to arrange multiple pages per sheet) is available in the Advanced Settings. Once you have everything configured, just hit the button to print everything in batch mode.
This solution can also be used for other multipage documents, not only PowerPoint presentations.
According to one of our clients, students perform better when they receive printed copies of lecture presentations.
For more details, watch our video about printing multiple pages per sheet.
Software used: Print Conductor
---
Converting (and combining) documents to PDF
When it comes to homework submitted by students, many students have difficulty (or are just too lazy to bother about it) converting their projects to the required format, and parents may be reluctant to download converters due to virus issues.
That's why teachers often ask us for a simple tool to convert (or convert + combine) their documents to PDF before printing them. In this case, we recommend them using DocuFreezer. DocuFreezer is a lightweight and easy-to-use application for Windows with an intuitive interface for saving various files like PDFs or images (PNG, JPEG, TIFF).
Extract and manipulate textual data! DocuFreezer has an
OCR function
that can make text in the resultant PDFs searchable. That means you can select words or other characters after converting, e.g., document scans, with a mouse cursor and then copy and paste them elsewhere.
Using Print Conductor
With Print Conductor, you can "print" to PDF. Or, you can combine files into a single PDF document – by enabling Single print job mode and selecting a Microsoft Print to PDF (preinstalled in Windows 10). The standard Windows PDF printer, however, will prompt you to ask where to save the output PDFs. To avoid this, you can use another virtual printer, such as Universal Document Converter or Adobe PDF printer with View Adobe PDF results unchecked.
Using DocuFreezer
To combine several files to a single multi-page PDF, select the Merge into one PDF option in the settings. This way, you can easily have multiple docs (even in different formats) combined into a multipage PDF or TIFF. You can also specify the name of the output file in the settings. The output file can then be opened and quickly printed by pressing Ctrl + P – from any PDF viewer or browser!
What the experts say
Here's feedback from Simon Jones, Managing Director of CREAM of the Crop Assessment company. As a reply to his comment, we would suggest using this solution to select a saving location only once.
"I use Print Conductor regularly for converting Word documents to PDF – I do this by importing the Word documents to Print Conductor, and then 'printing' them all via a PDF writer. Ideally, I would like to be able to choose the file saving location before 'printing' starts as we save all these documents to the same folder on our server. This does not seem to be a feature of Print Conductor at the moment, but nonetheless, I really appreciated the efficiencies it offers.
I also use Print Conductor for printing hard copy reports for our psychometric assessment activities where a customer might require multiple documents printed at one time – extremely convenient for the business and a real time saver."
Please contact us if you need help implementing this solution.
Software used: Print Conductor, DocuFreezer
---
Batch converting or printing report cards
One of the frequent tasks is converting report cards to PDF format (for example from Microsoft Word) for archival purposes or mailing to parents. These report cards are often PDF documents with fields where a certain option can be selected, and Print Conductor can correctly print PDFs with filled forms. You can print them in batches via Print Conductor or convert them via DocuFreezer.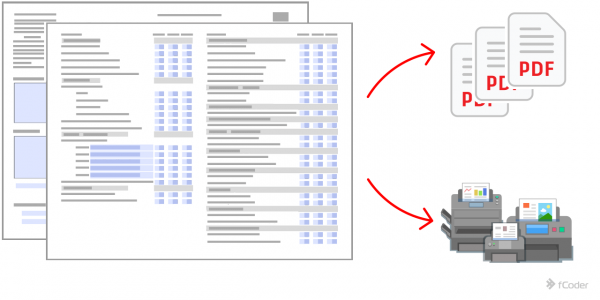 To print out mass report cards, use Print Conductor – just drag'n'drop the files to the main window and click Start Printing. If you need to convert them to PDF, see the options below.
Using Print Conductor
In the main window, select a virtual printer, such as Microsoft Print to PDF or Adobe PDF printer to batch convert many report cards into PDFs (for example, from Word to PDF)
Using DocuFreezer
Simply drag'n'drop all necessary files to DocuFreezer's main window and select PDF or another required output format. Click the Start button to begin the batch conversion.
Questions? Just drop us a message.
Software used: Print Conductor, DocuFreezer
---
Printing all documents in the required order
Many specialists want to print their day-to-day administrative documents in a specific order so they can use printouts without the need to sort the printouts by hand. And it can be a problem if documents get mixed up by the Windows spooler or if a print job from another person is coming to the same printer.
With Print Conductor, you can sort files before printing them as you like: by name, size, date, folder, paper source, or even a custom parameter. You can also use the Single print job mode to ensure printing in the correct order in a Windows environment.
What the experts say
Katherine McDonnell, a high school teacher in Colorado, USA spends time on something else rather than sorting printed pages. She says:

"As a teacher, I use Print Conductor to streamline my planning and copying process, because it allows me to batch print several documents at once without having to open each and every one. I also use a program that generates multiple versions of each test or worksheet. Prior to Print Conductor, I had to print the right number of each version and then sort them by hand. Now, I can print them in the order I want with the push of one button."
If something goes wrong, you can always get in touch with us.

Software used: Print Conductor
---
Printing multiple booklets in bulk
You can make a folded booklet (that looks like a small book or a brochure) for your students by switching to "booklet printing" mode in your printer settings. It should be an easy task if you want to make one or two booklets via Microsoft Word or Adobe Acrobat or using your printer functionality. But what if there's a need to produce booklets for 100 students?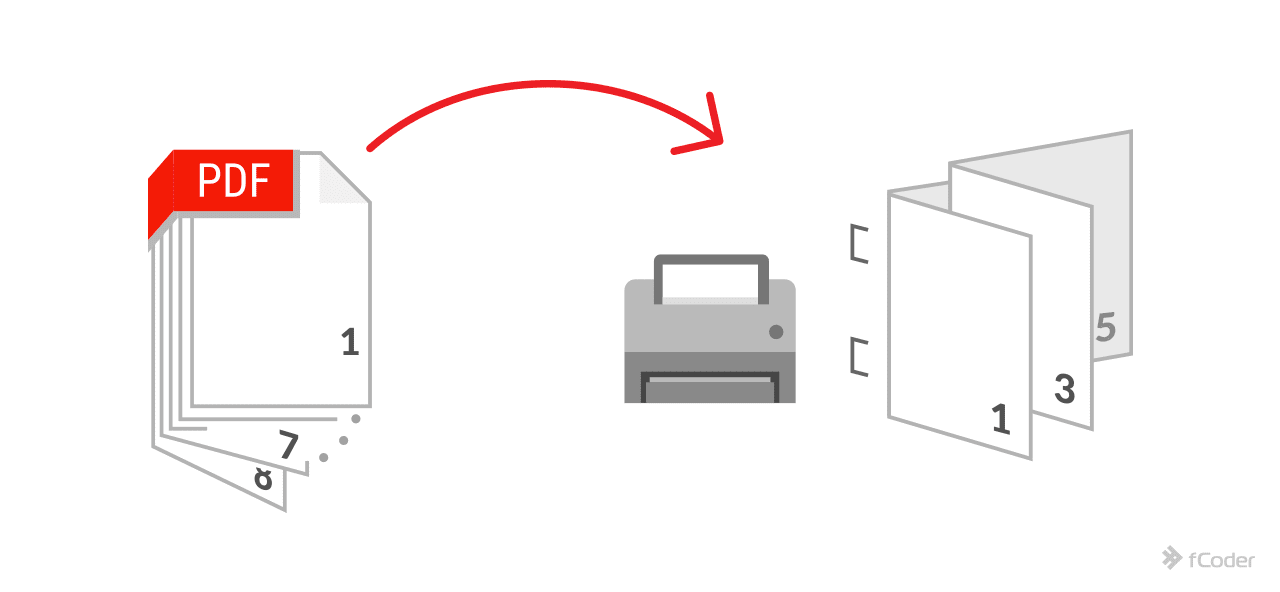 The easiest way to print off many booklets is to add your multipage PDFs or Word documents to Print Conductor, select a printer, and open Printer Properties. Then find the Booklet Printing option (or an option with a similar name; this depends on your printer model) and enable it. Now you are ready to print them all!
It's a good idea to print one booklet and check if it works as expected and then proceed with the rest of them. If you want to print the same booklet from the list more than once, you can right-click it, open Item settings… and select the number of copies.
What the experts say
Ken Wolfe, adjunct instructor at Dunwoody Technical College (Minnesota, USA), found Print Conductor useful for preparing booklets of reference sheets for his students. He says:

"Before Print Conductor, the assembly of the booklets had become very tedious and time-consuming. The procedure was: open a file, print the required number of copies, close the file, and open the next file. Then, when all the sheets were printed, they had to be collated. As the number of reference sheets grew and the number of students grew, I was about ready to give up on the whole endeavor. Then I found Print Conductor. What a fantastic program. Simply add the list of files, select the number, and you are good to go - and everything is collated."
If this solution doesn't work for you, please contact us – we will try to come up with other options.
Software used: Print Conductor
---
More complex solutions to make school printing less complex
Many colleges and high schools have a dedicated print area with multiple computers or even a print & copy center where students come to print their materials after classes. In this case, installing Print Conductor or other software with GUI on every PC in the print room can be costly. Plus you'll need to provide training to explain to every user how it works.
Document printing or conversion 24/7
If you need a print solution that can be controlled from one central location – we've got you covered. With FolderMill, you can make things as easy as copying files to a folder, regardless of how many printers you have or how many print users you want to scale up to.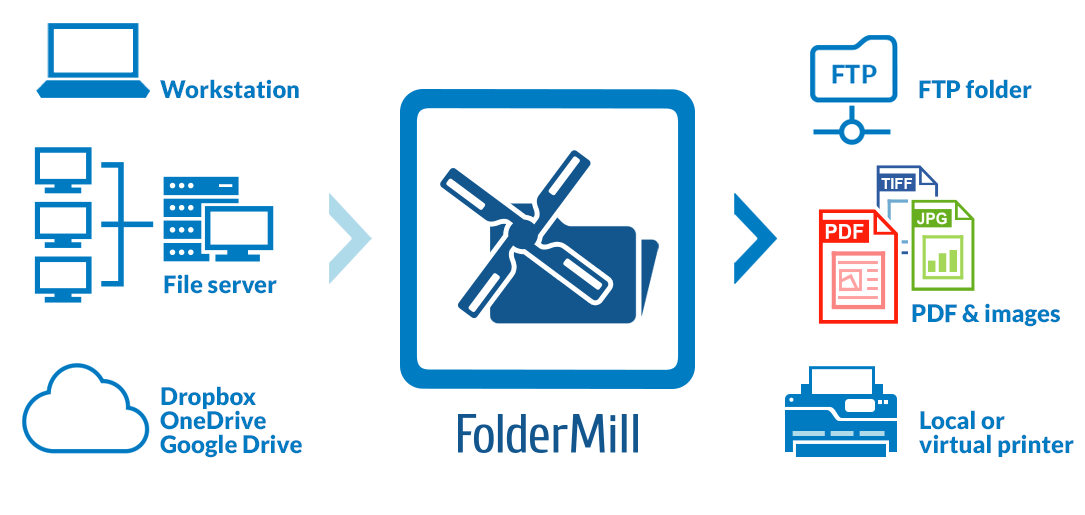 With the use of FolderMill, administrators can create a few different folders with predefined rules. For example, print only black and white and in duplex mode. Printing or file conversion starts automatically after a user drops files to such a folder (a shortcut to a folder can also be used). Using FolderMill in a school or another enterprise allows creating more flexibility and centralized management.
If you used to enjoy Google Cloud Print to print from web-connected devices before it was shut down, we also suggest using
FolderMill as an alternative solution
.

Printing from the command line
For IT administrators, we can also suggest trying 2Printer. It is a command line tool (no graphical interface) that runs from the command line. This application can find its use on a server or workstation in a school or college. When a 2Printer command is executed, the software scans the source directory and optionally, the subfolders as well, and then sends all or specific files to the printer.
Please contact us if you don't know if 2Printer or FolderMill is the right option for you, or if you need help integrating it into your system.
Software used: FolderMill, 2Printer
Special pricing for educational institutions
We have special pricing for schools and educational institutions. Please
contact us
if you want to order Print Conductor, DocuFreezer, or FolderMill license with a 20% discount.
---
Not sure which tool is right for your tasks?
Still unsure of what you need? Let us consult you. If you are not sure which of our programs – Print Conductor, DocuFreezer, FolderMill, or 2Printer suits your needs best – we can help. Please contact us with details on your current document workflows and the challenges you're facing. We'll figure out how we can help your educational organization be more efficient with our software.