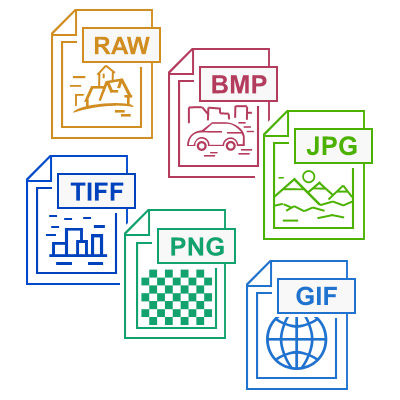 With the explosion in mobile devices and smart phones, it is hard to imagine our life without a digital existence, especially when it comes to images. Old school hard copies of pictures are a thing of the past as they gave way to digital versions. Texting images and uploading a selfie to Facebook is now more popular than a face-to-face meeting.
Of course, not all digital images are created equally. Depending on the purpose of the image, some digital files need processing and formatting. fCoder offers several solutions for processing digital images. With the options and features offered by fCoder, they are sure to satisfy most, if not all, of the demands a customer could have.
Image Converter Plus
One product from fCoder is Image Converter Plus, which is an end-user software solution for viewing and converting image files. Image Converter Plus supports over 260 different file formats, including: ico, cur, ani, bmp, dib, rle, gif, jpeg, jpg, jpe, pcd, pcx, dcx, png, ppm, pbm, pgm, tga, tif, tiff, wbmp, wbm, wmf, apm, emf, wpg, psd, img, gem, iff, ras, sgi, xbm, xpm, dxf, rle, pict, pic, pct, psp, jng, mng, clp, cut, fpx, jp2, jpc, j2k, jpx, j2c, and many more.
A popular feature of Image Converter Plus is how it converts files in batches - i.e. multiple images at a time.
Image Converter Plus also adds a special context menu item for Microsoft Windows File Explorer that allows users to preview a selected image immediately and send the file to the processing list with just two clicks.
The Image Converter Plus program interface allows you to preview the final product before images are actually processed. The image viewer built into the software can also help in viewing very rare or specific formats that are not recognized by other programs.
As mentioned before, the image file processing takes place with just a couple of clicks. With Image Converter Plus it's possible to resize, crop, rotate, sharpen, and blur images, and also apply other effects to them.
Another unique feature of Image Converter Plus is how it supports most RAW file specifications, which can differ from one camera to another. This is very important for photo enthusiasts since they can use the RAW setting to keep much more data in each picture.
However, viewing RAW files, even on powerful computers, is a really slow process. Thankfully, users can convert RAW photo files to JPG with Image Converter Plus, which dramatically increase how fast the file loads and makes viewing the photos a breeze on any device.
Other popular features that Image Converter Plus users appreciate is splitting PDF documents into separate JPEG files, thumbnail creation, watermarking, right-click image conversion and image processing, to name just a few.
2JPEG and 2TIFF
To process digital documents and images in batch mode, users can use two command line utilities, 2JPEG and 2TIFF. They support the same formats as Image Converter Plus. These utilities do even more though, with the ability to efficiently convert a wide variety of files, including Microsoft Word and Rich Text documents, Excel worksheets, PowerPoint presentations, Visio, Publisher, and HTML.
2JPEG converts Adobe PDF documents to JPEG in batch mode, which helps create thumbnails and publish documents on a website.
Users can expect very impressive results when 2JPEG and 2TIFF are combined with electronic devices, such as microscopes or medical equipment processing a MRI or X-rays. Data received from these medical devices can be converted to JPEG or TIFF format. These files can then be interpreted and displayed on any computer, tablet or even a smartphone.
The command line syntax of 2JPEG and 2TIFF is quite simple, but offers a lot of flexibility in dealing with output files, i.e. color depth, resolution, image size, data compression control, and more. The full description of the command line syntax is available at:
www.2jpeg.com/overview/2jpeg-command-line-syntax
www.2tiff.com/overview/2tiff-command-line-syntax
FolderMill
FolderMill offers effective solutions for corporate users to perform image and document processing. It monitors user-defined "hot folders" and converts new documents and image files to PDF, JPG, TIFF or PNG. A typical business application is to install FolderMill on an office server and share the "hot folders" with employees.
Now, when employees need to convert any document or image file to PDF, JPG, TIFF or PNG, they simple copy the source files to the network "hot folder". The final products appear in the output folder several seconds later, with all the work related to the conversion taking place behind the scenes.
As well as serving as an image or document converter, FolderMill can also print documents on any desktop or network printer, along with virtual printers, connected to the server. In combination with Universal Document Converter – a virtual printer also developed by fCoder - the list of files that can be converted is greatly increased. In addition to the file formats listed above, Universal Document Converter can save files in Bitmap, PCX and DCX formats.
For example, FolderMill by itself cannot convert Autodesk, AutoCAD, DWG, or DXF files, but it can print them. But, when FolderMill is used together with Universal Document Converter, users have the ability to "virtually print" AutoCAD drawings to PDF or image files!
This is one of the best features of software applications developed by fCoder - their ability to work together and supplement each other in their functionality, thus offering the most complete range of options for processing digital files.
Want to read more articles like that? - Subscribe to fCoder Newsletter
Subscribe to our email newsletter. We are sending infrequent emails with useful articles and our news. You can unsubscribe at anytime.