The infrastructure of many companies involves intensive document management - the creation, editing and sharing of various documents within the organization and beyond. Many companies today are focused on reducing costs on processes within their business. One of the implicit weak points is financial and time costs on printing office documents. However, there are time-tested IT-solutions to this problem, and Print Conductor is one of them.
18th November 2017 marks the 10th anniversary of the Print Conductor print management software.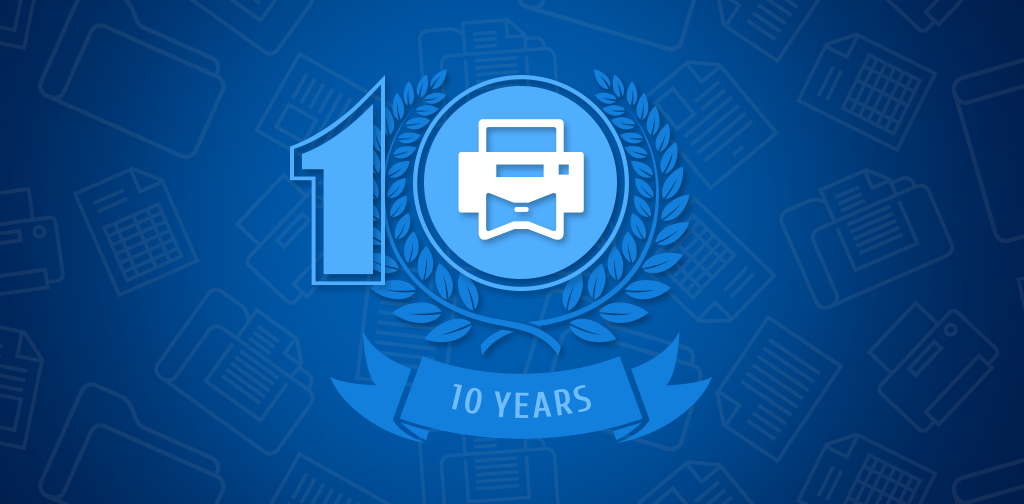 Mikhael Bolgov, head of product, says:
"Today we're proud to be celebrating 10 years of the first release of our batch printing software - Print Conductor. Initially it was a utility designed for testing Universal Document Converter. Back in 2007, we didn't really think Print Conductor would become a standalone large-scale software product which helps so many people today to facilitate batch printing of documents!"
Leonid Jakobson, project coordinator, says:
"We needed to test whether Universal Document Converter was able to properly convert to PDF and other office filetypes like DOC and XLS. At that time, It already was version 4.2 and it was able to interact with office applications like Microsoft Word and Excel as well as function as a virtual or a network printer. Manual testing was an issue, so our software engineers designed a solution for testing purposes. That's how Print Conductor was initially created".
Vitaly Doroshin, IT-developer, adds:
"Meanwhile, a friend of one of our developers needed to submit several documents to a bank, and printing them one by one was a real headache. He suggested making a piece of software to print multiple text documents in a row."
Let's take a step back in history and see how it all started!
2007 - The beginning
The very first version of Print Conductor, released on November 18, 2007, already had lists and could batch print popular Adobe PDF, Microsoft Word DOC files and Microsoft Excel XLS charts. Its interface was very simple and modest: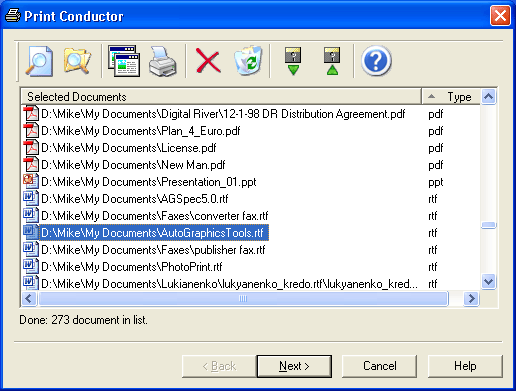 2013 - Better interface & first logo
6 years later, the second public version was enriched with features like adding files onto the main window via drag'n'drop, opening and printing individual documents and ability to change printer settings. Adding documents and folders of documents into the list, clearing the list, saving and loading lists of files became more intuitive thanks to new icons and new redesigned interface.
And Print Conductor got its first recognizable logo - an image of blue printer, which has evolved over time.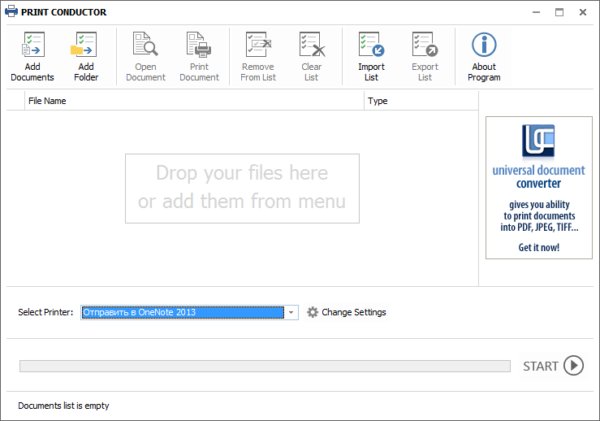 By the end of 2013 Print Conductor was upgraded to version 3.2 and got many new features, which are relevant up to now: support for network and virtual printers, batch printing image files (JPEG, TIFF, PNG, GIF, BMP, PCX, DCX), support for CAD tools, support for WordPerfect and XPS documents, sorting files in the list by date or time as well as improvements for the printing engine.
The program interface was translated into 6 languages: German, Italian, Spanish, Japanese, Russian and French.
2014 - New features, new formats
Later on, Print Conductor was improved to batch print multiple files in many new file formats and got the functionality to change print options before the print session directly in the interface.
The software started supporting CAD software (AutoCAD, SolidWorks) drawings, PowerPoint presentations (PPT, PPTX) and other top requested file formats: Microsoft Publisher (PUB), SVG, WPC, SNP, XML, JAVA, HTML, OpenOffice (ODT, ODS, ODP, ODG, ODF), Outlook MSG.
The following features were added: cover page to separate printed copies of documents, ability to set collation options, number of copies, and page range.
2015 - Improved Performance and Stability
During the year 2015 Print Conductor evolved up to version 4.9, which undergone many improvements and fixes.
Print Conductor enriched its list of supported formats with Microsoft Outlook EML, PostScript, EPS, DWF and DWFX, Adobe PSD and WMF, Autodesk Inventor drawings (IDW, IPT, IAM, IPN) and WordPerfect WPD.
Several things were improved: PDF printing engine, Microsoft Word DOC files, OpenOffice files, HTML and MHT files printing modules, algorithm for loading and saving print settings, sorting files in the print list, printing password-protected documents.
New languages became available in the software interface: Slovenian, Arabic and Czech.
2016 - Level up in usability
The year 2016 became a milestone in development of our program with the release of new version - Print Conductor 5.0.
The key improvement was the usability of the program - Print Conductor's interface got a totally new design: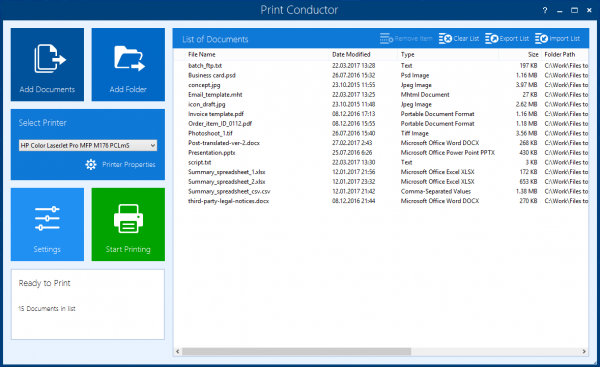 During the interface redesign process we wanted to make it better, easier to use and more up-to-date, and we received mostly positive feedback on the program's new looks.
New formats were added: PDF portfolio, CorelDraw CDR and CGM, Microsoft Excel CSV, Microsoft OneNote ONE.
Print Conductor 5.0 got a few new abilities like printing PDF files without annotations, batch printing password protected PDF, DOC and DOCX files, printing image files and photos in "Fit in frame" mode and compatibility with eDrawings viewer 2016, 2015 and 2014 and Autodesk Inventor Viewer 2016.
Versions 5.1 and 5.2, also released in 2016, got even more improvements: printing files with file path length more than 260 symbols, better PDF printing engine, printing of attachments and headers for EML and MSG (e-mail messages), printing documents from RAR or ZIP archives, improved print quality for PDF documents and some others.
2017 - Website overhaul & further improvements
Print Conductor 5.3 was released right after winter holidays - on the 9th of January.
It had significant engine optimization, which increased print speed for multipage PDF documents and images (TIFF, JPEG and PNG, Bitmap and GIF). Support for SWF, HPGL and PLT formats was added.
Later this year, in August, the website and branding of Print Conductor were fully redesigned.
Versions 5.4-5.6 introduced abilities to print Zebra ZPL files (labels, industrial barcodes, QR codes), to print plain TXT files without Microsoft Word, changing page orientation for each printed document, printing script files and more.
Today
The latest version of Print Conductor - version 5.6 - supports over 75 types of files, it is available in 13 languages, and has over 90 features added since the very first release.