It's been a long while since we overhauled Universal Document Converter, but we finally released an update for it! Now you can convert files to searchable PDF and add watermark to them with new Universal Document Converter 6.8. Ability to print to PDF and other formats is still a highly-demanded feature among our customers, that's why we bring more functionality to it and keep our virtual printing software up-to-date.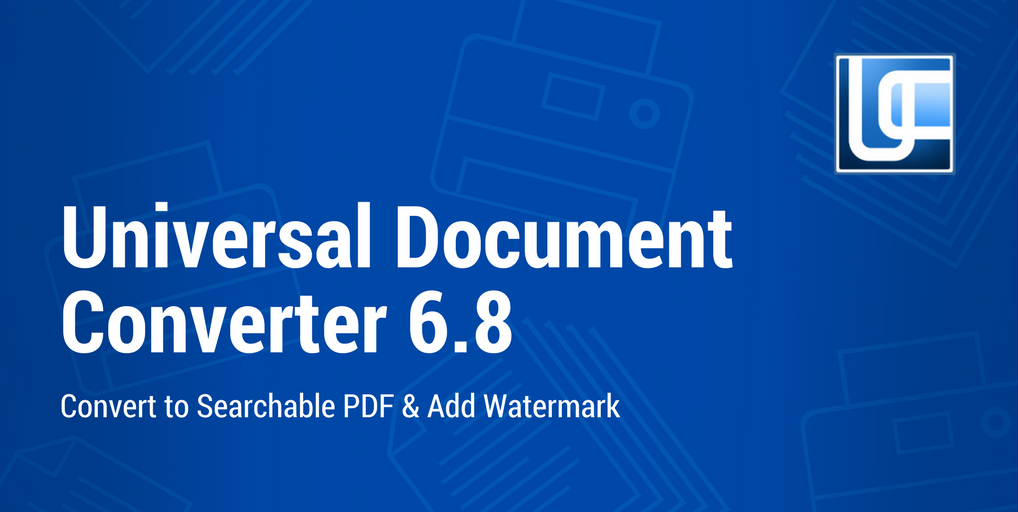 What's new in Universal Document Converter 6.8
Convert to PDF > Make searchable PDF > Add watermark
Executable files are now signed with Extended validation (EV) Code Signing Certificate
Other fixes and improvements
Different companies, governmental organizations and law firms often add signatures, logos, disclaimer statements, copyright notices, file names, page numbers and more to existing PDF files. Now they can make this process much easier with Universal Document Converter. Once configured, the software creates a searchable PDF with watermark in 3 steps:
Creates a PDF from a text document
Makes PDF searchable
Inserts preset or custom watermark
Previously, watermarks could only be applied to raster PDF or image files. But with the release of the new version, searchable PDF documents can be easily created from any files that contain text. Plus, image-based or text-based watermark can be automatically applied to them. It is one of the major improvements of the new version.
Key features of Universal Document Converter
Universal Document Converter is a virtual printing software, which converts multiple types of documents into PDF and popular image file formats: TIFF, JPEG, PNG, PCX, DCX, GIF or BMP. This software virtually prints almost any types of files.
Universal Document Converter provides a range of features, such as crop and resize options, adding margins, placing a watermark, adding a company letterhead or running a custom script after the conversion. The program eliminates the process of printing & scanning of documents - the program's virtual printing engine converts them to the necessary file format within a couple of mouse clicks.