One of our goals is to bring you the fastest printing performance yet without any loss in quality. We found out that we can distribute workload on different processing cores of a PC processor and thus make printing faster. It is especially relevant for multipage documents - they are now processed more effectively thanks to the multithreading algorithm we implemented.
We would like you to try out the new Print Conductor - version 5.3, which once again makes printing PDF files, drawings and images a little bit easier than before.
Print Conductor can print any type of printable files (if you know which it can't - let us know!). Just add documents into the list and click 'Start printing'. If you need to print the same files over and over again - just export the documents' list and use it later again. Print Conductor makes your work effective and simple.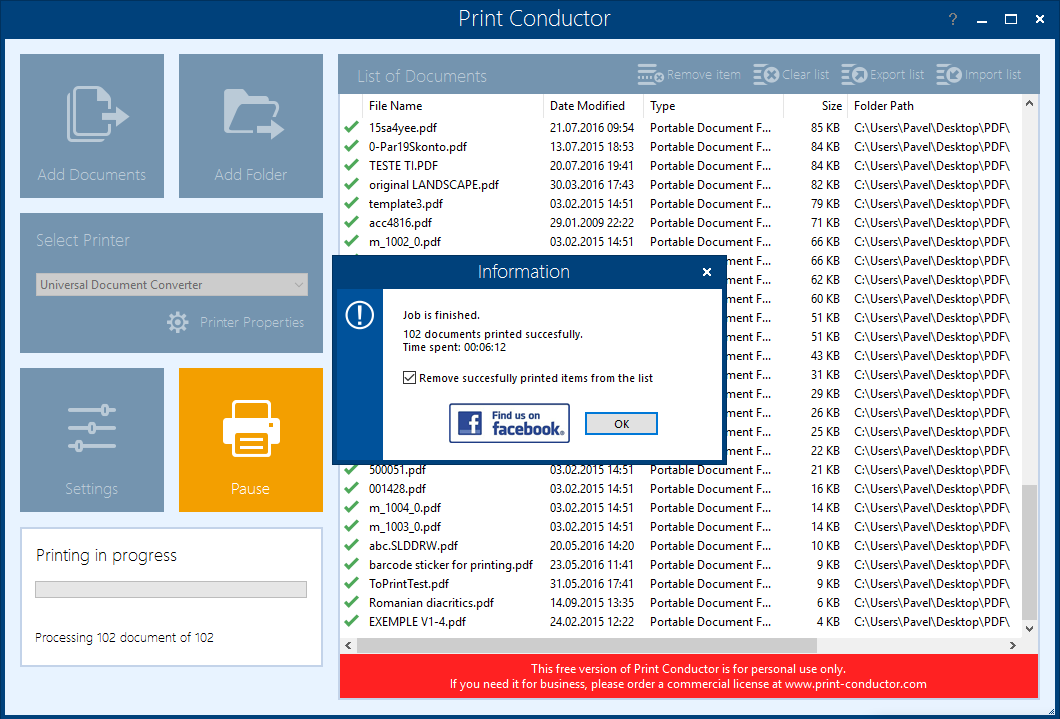 What's new in Print Conductor 5.3:
New PDF printing engine with multithreading
We have been testing Print Conductor's print speed with 100 sample PDF files over time. According to our tests, Print Conductor made progress from 00:23:12 (previous versions) to 00:06:30 (latest version) - the print speed got almost 4 times faster. We made it happen in Print Conductor 5.3 thanks to the optimization of the program's printing core. The new printing engine has a new multithreading algorithm, which distributes workload on different cores of a PC processor thus making printing more effective.
New features for Microsoft Word documents
We made Print Conductor more flexible for those who print Microsoft Word documents.
Enable/Disable Macros: Microsoft Word documents may have macros - scripts created to automate frequently-used tasks. In the new version you can enable or disable them for all the files at once in the INI-file settings.
MarkupMode: When you turn on Track Changes, Microsoft Word marks up and shows any changes that anyone makes to the document: insertions, comments, deletions or formatting changes, etc. Now you don't need to turn on/off Show Markup for each Word document before printing. You can do it for all the files at once in the INI-file.
New features and fixes for printing technical drawings
A lot of our users are engineers, construction and manufacturing specialists, who often print drawings, blueprints, designs and layouts. In the new version we made three major improvements for them:
Added more formats for plotters: HPGL (HPGL/1 & HPGL/2, *.hp *.hpg *.hpgl extensions) and PLT (*.plt);
Made Print Conductor compatible with free eDrawings Viewer (2017 version);
Fixed page autorotation for DWG and DXF formats.
Find out the full list of updates in new version at
www.print-conductor.com/news/print-conductor-5-3