It took us almost 6 months to step it up and bring you the new version of Print Conductor. We made Print Conductor 5.2 smarter, faster and more effective in terms of performance and speed. The new commercial library we integrated makes printing PDF files more stable and better than before.
Print Conductor is designed to print plenty of various files at once. Just add documents into the queue and click 'Start printing'. In most cases you don't even need to change the default printing settings. Print Conductor makes your work effective and simple with 'one click' printing.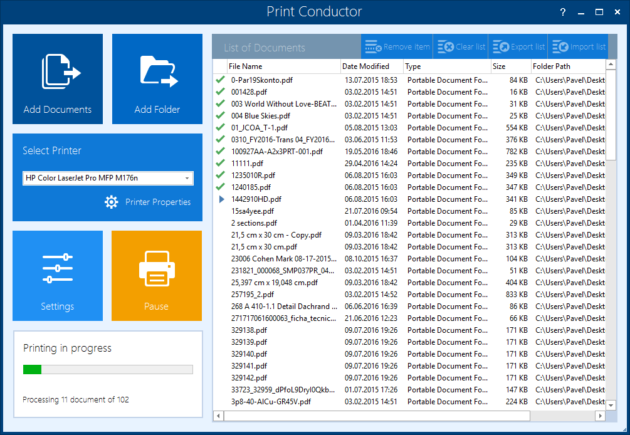 With Print Conductor you can process a wide range of 70+ types of files, set printing quality and print to any paper size. Specify printers, printer trays and set essential printing options to complete a batch printing job easily. Intuitive and user-friendly interface, simple set of options and high performance will have your files processed in a few minutes.
The new version has major improvements:
✓ Better print quality with new powerful PDF printing engine;
✓ 2,5 times decreased traffic for network printers (compared to previous version);
✓ Decreased load on local office network;
✓ Better performance for MS Word DOC, DOCX, RTF, MHTML and Microsoft Visio files printing;
✓ Enhanced program component for automatic printing PDF via Adobe Acrobat API
✓ Ability to manage email header information and attachments for EML and MSG files
✓ Ability to skip comments while printing Microsoft Word files
✓ Ability to print many files from a folder, ZIP or RAR archive
✓ Ability to set different types of cover pages between printed documents
✓ Dynamic fields in Microsoft Word documents are updated automatically while printing
✓ Estimation of paper sheets quantity required before the printing session
✓ Support for new format: Microsoft ONE (*.one)
✓ Localization to Swedish language, and other features
Find out more information about new version and its features at www.print-conductor.com/news/printing-lots-of-pdfs-print-conductor-5-2