We've released a major update for 2TIFF under version 9.0! 2TIFF is a batch image converter that works from the command line interface (CLI). This tool can convert many office documents, photos, drawings in bulk. With it, you can configure auto-conversion on server or workstation to the TIFF format and automate it through scripts.
The new version of our 2TIFF software has enhanced processing core, post-processing features, processing password-protected files, more supported formats, updated syntax, and new capabilities.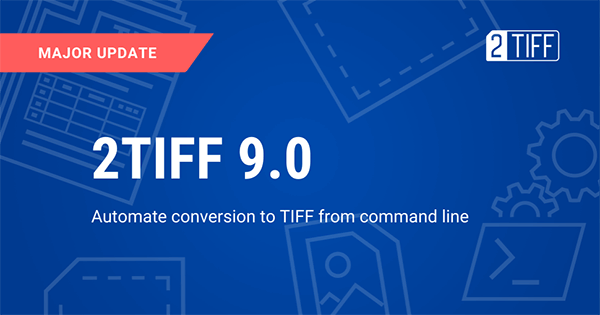 What's new in 2TIFF 9.0
New smart file processing core
The improved processing core of 2TIFF makes it more stable and effective. Files are now processed faster, retaining high quality. Besides, there's a new processing engine for HTML files, based on a Chromium component.
Newly supported formats: Kompas-3D, iCalendar, Adobe InDesign, obsolete Word and Excel
With newly supported formats, 2TIFF can automate the conversion of 110+ types of files (about 275 file extensions) in total. In this update, Kompas-3D drawings, iCalendar files, Adobe InDesign files, and obsolete DOC and XLS files were added.
Copy, move or delete files after processing
After the conversion is complete, you can make input or output files get copied, deleted, or moved to another folder. This feature can be applied to both successfully converted or failed files.
Other improvements:
Updated command line syntax
Improved quality and faster rendering of DWG and DXF files
Improved processing algorithm for PDF Portfolio files
Log files' structure changed to XML structure
Improved image editing features
Fixed and improved rendering of XPS and OXPS files