The new version of our command-line auto printing software 2Printer 7.0 is out now! Now, 2Printer has a more powerful printing core, updated syntax, new supported formats, a new control panel, and new abilities.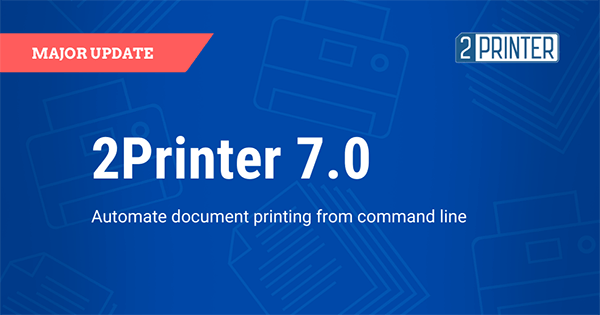 What's new in 2Printer 7.0
Faster file processing core
We've enhanced the processing core of 2Printer so that it works faster and more effectively. Files with simple structure (e.g., plain text files) are now processed quickly, and complex files (e.g., TIFF or PDF) retain high print quality.
Newly supported formats: ICS, INDD, obsolete DOC and XLS
The number of supported formats is growing – 2Printer can automate the printing of 90+ types of files. In this update, iCalendar files, Adobe InDesign files, and obsolete types of Word and Excel files were added.
New control panel with multiple settings
We've added an easy-to-use control panel with GUI controls – 2Printer Settings. It has many common and advanced print settings to configure. With it, you can change the default settings of the program for your specific print tasks.
New abilities:
post-processing actions: copy, move or delete processed files
ability to set multiple sources for documents at once
adding page numbers or file names onto pages
ability to set pages' print order to direct or reverse
ability to save a log of unprinted files
ability to set up page alignment and offset
Learn more about this update at:
www.cmd2printer.com/news/2printer-7-0