Saving multiple Outlook emails is essential for many users. Whether you have some personal or work emails, you may need to keep correspondence history, move data to another PC or save it for archival purposes.
Email services such as Outlook give the option to convert a single email (as TXT, OFT, MSG, HTML or MHT files), but the feature to back up one or multiple emails as PDF is not usually provided.
How to save multiple Outlook emails to PDF
Converting Outlook and other types of email messages with attachments can be automated with the right third-party tools. We've made some tests, and on the screenshots below, you'll see copies of a sample email message in different formats converted to PDF.
Batch convert Outlook EML or MSG with DocuFreezer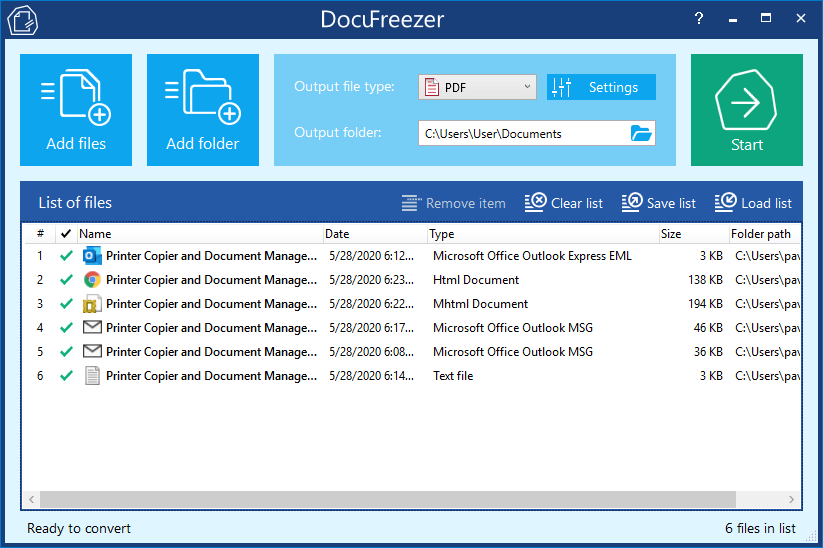 DocuFreezer is one of the easiest ways to save emails with attachments to your hard drive by converting them to PDF or image format.
DocuFreezer:
Supports EML, MSG, HTML, MHTML, PST, OST, P7M, ICS, EMLX, TXT and other file types;
Converts multiple emails at once – no need to open files one-by-one;
Converts email attachments too – different options are available;
Can recognize text via OCR function if your original files don't have text layer (e.g., they are scans);
Can merge all added email messages into a single multipage PDF;
Keep the original file names of source files when combining email + attachment as PDF.
Besides, with DocuFreezer, you can drag'n'drop email message files directly from Microsoft Outlook, set custom page size for Outlook MSG and EML files, keep source files' original date and time, and check the email delivery time in the program's List of files. So if you are looking for a lightweight utility to convert various files, including emails into PDF, images (TIFF, PNG, JPEG), or plain text (TXT), try DocuFreezer.
Note: If you use this method, the output PDF or PDFs will be searchable. Since original input files contained text, the output PDF will have text too. It can be indexed, selected, and copied to clipboard.
Save emails as PDF with DocuFreezer
Automate PST to PDF conversion using FolderMill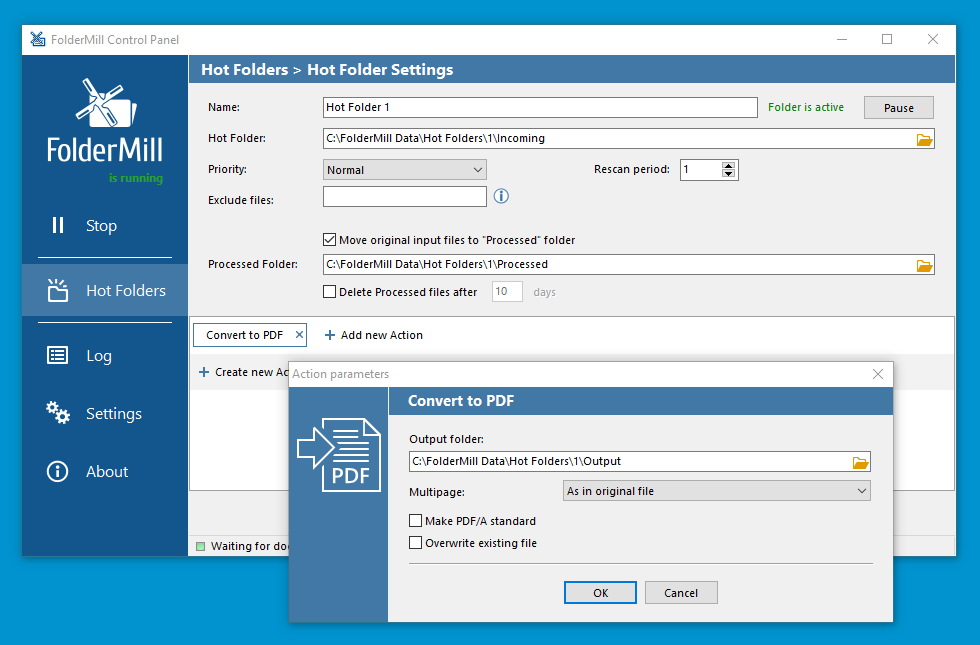 FolderMill allows you to save all new incoming files in PDF or PDF/A format on a regular basis. When the program is running, you can just copy emails to a monitored folder, and FolderMill will take care of them.
FolderMill:
Supports EML, MSG, HTML, MHTML, PST, OST, P7M, TXT and other formats;
Fully automates the conversion process;
Provides different file naming option for saving items;
Can be used with any local or a shared folder.
Let's say you want to store all information on a specific case in one large document. One of the great features FolderMill offers is that you can add new pages to an already existing PDF. This will help you keep a single PDF updated when new emails are received.
Save email conversations into a single PDF with FolderMill
Batch save multiple emails with Print Conductor + virtual printer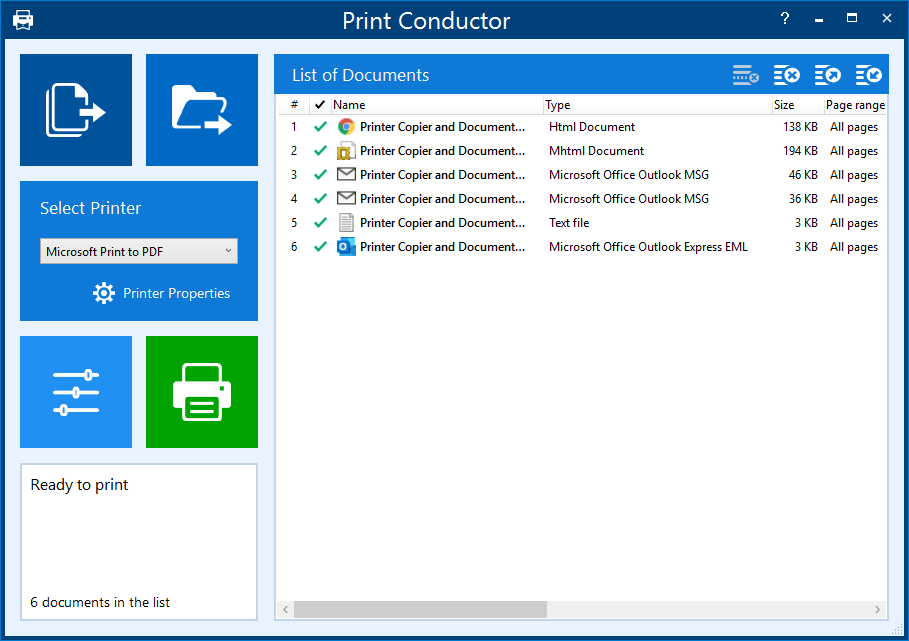 With Print Conductor, you can also use it for saving multiple emails as PDF in bulk. You'll also need a virtual printer, such as Microsoft Print to PDF, Adobe PDF printer, or Universal Document Converter.
This method lets you merge multiple emails into a single PDF file. To make it work, you should enable single job mode in Print Conductor.
Print Conductor:
Supports EML, MSG, HTML, MHTML, PST, OST, P7M, TXT and other formats;
Lets you quickly add email messages directly from Microsoft Outlook simply by drag'n'dropping them;
Allows you to handle email attachments in different ways: ignore, place them before or after the main document, or print attachments only.
Note: If you use this method, the output PDF may become non-searchable. That means a bitmap image of each page comes to the virtual printer. Text within a PDF cannot be indexed, selected, or copied to clipboard.

Print emails to PDF with Print Conductor
Need to print multiple email message files on a regular printer? Check out this article:
Convert many emails to PDF from command line using 2PDF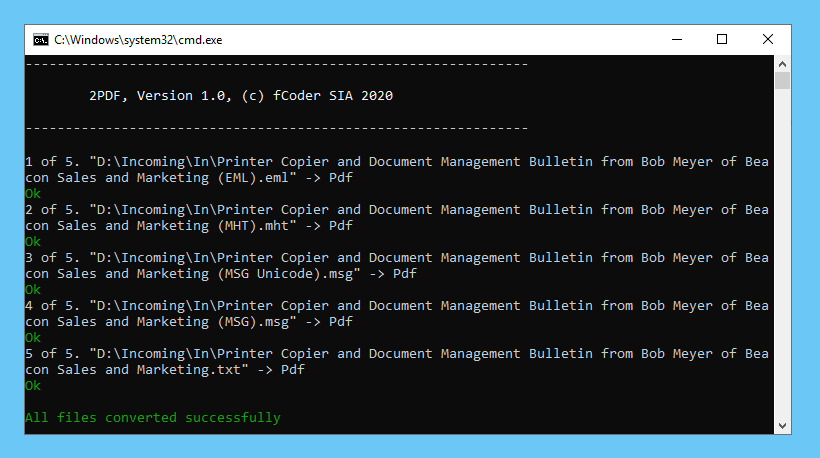 You can package all emails contained within a folder into one PDF document using a command line (CMD) tool called 2PDF. 2PDF can be integrated into your own software or launched from a script or application. As a standalone tool, it works from Windows Command Prompt, PowerShell, or a similar interface.
2PDF:
Supports EML, MSG, HTML, MHTML, TXT and other formats;
Can be integrated into any Windows environment;
Can create separate PDF files from emails or join emails into one PDF or PDF/A;
Has post-processing actions, e.g., copy or move successfully converted files to another location.
Try email to PDF conversion from command line with 2PDF
Email filetypes supported by software mentioned above
*Additional software may be required
**With a virtual printer
If you have any trouble processing these files or if you work with other email filetypes such as EMLX, MBOX, ICS, OFT, TNEF, VCF, please contact us. We will try to come up with a solution for you or consider adding new filetypes' support to our software.
Q&A
Q: How to save email as PDF?
The simplest way to save one or more emails as PDF is to use a desktop application for email to PDF conversion. To do it, use our step by step guide or follow the steps below:
Open DocuFreezer;
Add the necessary emails to the program's List;
Select PDF as output format and start batch conversion.
Q: Why save emails as PDF?
For a long-term project:
Keep all relevant information in a multipage or separate PDFs in a shared drive or local folder for reference.
For communication and investigations:
Save important conversation threads with clients or colleagues, including attachments.
For accounting or HR department:
Compile all your emailed receipts and send them to your accountant for their records or compensation of expenses.
For litigation and legal issues:
Save copies of emails for your legal team working on a specific case. Keep track of all the correspondence for e-discovery or other legal processes.
Q: How to save multiple Outlook emails as PDF?
Outlook doesn't have PDF as one of the default "save as" types. There are a few ways to export single email files to Adobe PDF format manually. But bulk conversion is not possible using a manual approach. To mass convert multiple Outlook emails to PDF, choose the solution described in this article that suits you better – DocuFreezer, FolderMill, Print Conductor, or 2PDF.
Q: How to print multiple attachments in Outlook?
How do I print multiple attachments in Outlook without opening? Sometimes you may need to print out only attachments but not the emails. If you want to automate this process, we suggest using Print Conductor. To print attachments only:
Open Print Conductor;
Add the necessary emails to the program's List of Documents;
Go to Settings > Advanced;
Set Print attachments to Print only attachments;
Click OK and start batch printing.

Q: What are the most common email filetypes?
EML, MSG, HTML, MHT, PST, OST, P7M, EDB, MBOX.
Published: June 4, 2020
Last updated: July 13, 2021