There are very few offices, if any, that do not have a Multi-Function Unit (MFU) or a regular printer.  This is because printing remains a very common necessity, regardless of the numerous digital means available to save documents.  With the many different types of printers and different ways to print documents, fCoder offers several software solutions aimed at simplifying the printing process.
Print Conductor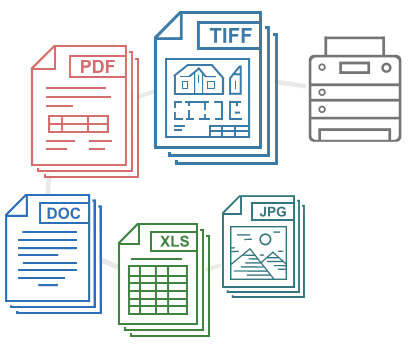 One such solution, Print Conductor, is designed for batch printing.  Normally, printing a lot of documents in a row requires opening each and every document individually and pressing the "print" button for each document.  Print Conductor greatly simplifies this process.  In fact, Print Conductor does not even require your physical presence to print your documents.  Just select the documents that need to be printed and add them to a list within Print Conductor.  Click "Start" and the software will take care of printing all your documents.
Although quite simple in its approach, the software can handle documents of a variety of formats, including: PDF, Microsoft Office, OpenOffice, Autodesk AutoCAD, Design Review, SolidWorks, HTML, XPS, XML, image files, text documents, Outlook message files with attachments, and others.  The software also can print a specific range of pages, omit specific pages, collate pages, print a cover page, and so on.
Print Conductor is compatible with all types of printers – desktop, network and virtual.
There is also an API available with Print Conductor that can be integrated into corporate workflow systems and can be utilized by software developers.
2Printer
2Printer is similar to Print Conductor in terms of powerful printing capabilities, with the major difference being its functionality through a command line.  Because of this command line functionality, it is especially popular with system administrators, software developers and professionals in general.
This powerful printing core is compatible with any printer and the number of documents that can be printed is unlimited.
2Printer is able to save you time and money as well. When used in combination with Windows Task Scheduler, it can print documents at a specified time while office workers are already at home, or during the night time when electricity is cheaper.
Another way of using 2Printer is creating script files to automate the printing of documents saved in specific folders.  This is very easy to do because Windows batch file syntax is very simple.  All you do is create a new file in Notepad, paste the line you see below and save your file as "test.bat".
2Printer.exe -s "C:\Input\*.PDF" -prn "Xerox 2050" -copies 5
Now when you double click this BAT file, 5 copies of each PDF file, stored in the folder "C:\Input" will be automatically printed on your "Xerox 2050" printer.  You can use this template to set up batch jobs to print documents in any folder on a computer.
2Printer's integration ability is not limited by Windows batch files usage. You can also use VB-script, CMD and PHP files or call 2Printer from your own program code designed in ANSI C, Microsoft Visual C++, Visual Basic, C#, Borland Delphi, Fortran, Python, etc.
FolderMill
FolderMill is another solution that can simplify the work of large business units. Once installed on a server, it will closely monitor all the files entering its environment.
"Hot folders" that form the basis of the software functionality are set to process incoming files: if the folder is set to print all the incoming files (or print files of the specific format), the software will follow the rule unquestionably.
This provides great functionality for average users.  All someone needs to do is place documents they need to print into a specified folder and then pick up the documents off the printer the next time they pass it.  It does not get much simpler than that.
FolderMill also releases office workers from any extra actions.  Offering unprecedented time saving opportunities, it waits for office workers to place their files into one of the "hot folders", and that is all. Users do not need to worry about installing printer drivers or printing each file separately.
FolderMill is also a great solution for workers who keep pace with computer technology.  In other words, those who like to upgrade their devices for newer products.  Because there are no printer drivers that need to be installed users simply connect a new device to the office network and FolderMill is immediately ready to fulfill all their printing needs.
The same is true for a new office printer.  IT specialists just need to install the driver for a new printer onto the office server and specify the printer when configuring the settings for FolderMill. No one except the system administrator will notice the difference – users will keep using the same network folder to print the documents.
One more useful thing to know about FolderMill is that it can perform many other actions on documents and other files.  For example, it will convert documents to other formats, add a watermark, etc. The full list of available features is available at the official FolderMill web site.